Chalk Talk - DePaul vs Marquette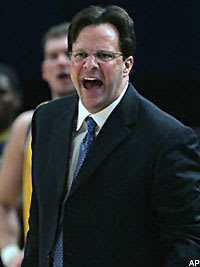 The DePaul Blue Demons (9-9, 4-2), who are in second place in the Big East, head up to Milwaukee to take on the #20 Marquette Golden Eagles (13-4, 3-3), who have been struggling as of late, but have yet to lose at home this season.
As always, The Demons Den brings you Chalk Talk, discussing the keys to the game for DePaul to defeat the Marquette Golden Eagles, which have not been done for many years in Milwaukee…however DePaul did beat Marquette last year at the Allstate Arena. Because this is a rivalry game, The Demons Den brings this to you free, along with the Chalk Talk's of both Notre Dame games.
Well, where we go…
#1 SLOW THE GAME DOWN!
Marquette arguably has the best perimeter team in the country, led by dynamic point guard Dominic James, do-it-all wing Jerel McNeal, and athletic Wesley Matthews. The Golden Eagles thrive in transition, and love taking very little time off the shot clock, where all three guards can finish at the rim, and none are afraid of taking the outside shot. So what should DePaul do to take Marquette off their game? Slow them down? How…we'll tell you…
The first way is to not apply any pressure in the fullcourt. Coach Wainwright has shown to dabble with some fullcourt pressure, but Marquette's guards, especially James and McNeal, will be able to slice and dice any pressure, and therefore having numbers and being able to convert on some quick and easy baskets. Marquette has shown to struggle when the game is played in the halfcourt, and DePaul has the size in the match-up, and the slower the game, the more size matters.
Usually to slow the game down a team will go to a zone, but DePaul has really played poorly throughout the year in the zone, showing very slow response when the ball is swung back and forth. With the penetration abilities of these guards, DePaul's zone would get pulverized. DePaul has shown to play better when going man-to-man, so that is what we are suggesting. DePaul is athletic and does match up well against Marquette, and has the size in every match-up.
Also, slowing the game down will get the crowd less into the game. Per Marquette, this game is a sell-out, so the more you can get the fans out of the game, the better. Marquette is undefeated at home thus far, and a lot has to do with their 6th man…the fans.
Slow the game down, and DePaul has a shot to pull the upset!
#2 TAKE CARE OF THE BASKETBALL!
The Marquette Golden Eagles averaged an amazing 10.2 steals a game, with junior Jerel McNeal, Big East's Defensive Player of the Year last year, averages 2.4 all by himself, being possibly the best on-the-ball defender in the entire country. DePaul only averages 12.9 turnovers a game, and Coach Wainwright has shown throughout his coaching career that his teams generally do a great job taking care, and valuing the basketball. But in a hostile environment with an excellent defensive team can change that in a flash!
The pressure is going to rest on three individuals: point guards
Cliff Clinkscales
and
Jabari Currie
, as well as leader
Draelon Burns
. We are not so worried about Clinkscales, who has a team-high 3.3/1 assist-turnover ratio, and has been consistent throughout the season with taking care of the basketball. The two contingent factors are Burns and Currie.
Because of his status on the team,
Draelon Burns
has the ball in his hands more-so than anyone. In losses this year, Burns has an assist-turnover ratio of 1.2/1, which is still good, but when we win, he has showed more patience, having a 1.9/1. When Draelon does not try to do too much, DePaul tends to win, and it shows in this number.
The biggest factor in our minds is
Jabari Currie
, who has shown to get wild, especially in the open court. In losses this year he has shown to be a huge liability, and his numbers show it, having a ratio of 0.9/1. But in victories, Currie has shown to be a huge asset, and his numbers are shocking. When he plays calm and collective, he has an assist-turnover ratio of 2.1/1, which is a huge increase.
Take care of that ball, play calm, and DePaul can pull this one out!
#3 ATTACK THAT RIM!
Ever hear of the phrase "size matters"? Well, if DePaul slows the game down and takes care of the ball (points #1 and #2), then size will matter, and DePaul has plenty of it. Both McNeal and James are small in size, Matthews is slight in frame, and Haywood, their power forward, is very undersized. DePaul can really exploit this!
Guards
Jabari Currie
and
Draelon Burns
are both very tall and bulky for college guards, and should be able to post up most any defender that Marquette can through at them. If they camp in the post, or take the ball to the rim, DePaul should shoot at a high percentage. The same could be said about
Dar Tucker
, who plays every position but center for the Demons, and could be a bear down low!
Most importantly, if we slow the game down, we CANNOT ignore the post! Both
Mac Koshwal
and
Matija Poscic
could be huge for the Demons, as both can really bang down low and create some havoc. Marquette doesn't have anyone that can defend either, and this should be exploited!
Demons, we need to attack the rim!
CLOSING THOUGHTS…
Looking at the numbers, games are virtually dictated on which Draelon Burns is the Demons getting: the team player, or the selfish one. In victories this season, Draelon only puts up an average of 12.1 shots a game, and scores 16.9, shooting 48.6% from the field. But how about in losses? We are looking at 16.6 shots per game, averaging 19 points, but shooting 35.6% from the field. In other words, the more Draelon shoots, the less likely DePaul will pull out a win.
A great leader gets his teammates involved…Draelon has shown this the last couple of games, and hopefully being back in Milwaukee his last time won't make him try to be Superman.
If you're not planning on going to the game in Milwaukee, head to Lincoln Station, where for just $20, you can get all the beer, wings, and pizza you want while watching your DePaul Blue Demons!