DePaul hopes for Senior Night win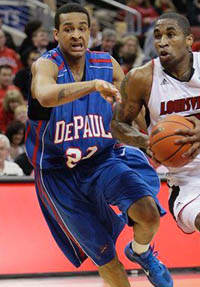 South Florida (13-15, 4-12 Big East at DePaul (7-21, 1-15 Big East)
Where: Allstate Arena-Rosemont, Ill.
When: Wednesday, March 2 at 7:30 p.m.
Television: The Big East Network, The U Too
Radio: WSCR 670 AM
Recent Recap
DePaul was dealt a massive blow this week when head coach Oliver Purnell informed the public that the Blue Demons would be without the services of freshman star Cleveland Melvin, the team's leading scorer, for the rest of the season thanks to a thumb injury suffered a week ago at St. John's.
Factor the loss of Melvin in with a DePaul team that has managed to claim just one Big East win this season, and the task of knocking off visiting Rutgers on Wednesday gets even tougher.
Since knocking off Providence on Feb. 17 and nearly taking down then-No. 14 Villanova two days later, the Blue Demons have reverted back to their sluggish play, taking a 25-point loss at the hands of a surging St. John's team and losing at home Saturday to lowly South Florida by ten points.
Rutgers, meanwhile, has been a roller coaster in recent weeks. After knocking of Villanova on Feb. 9, the Scarlet Knights have dropped a close game to Seton Hall and took Syracuse to overtime before falling 84-80. In its last two outings, Rutgers has lost to No. 16 Louisville and West Virginia at home.
Finishing the year with two wins against DePaul and Providence on Mar. 5 would give the Scarlet Knights a 15-15 overall record in coach Mike Rice's first season on the bench. An impressive season considering the low expectations by many for Rutgers this year.
News and Notes
-Wednesday is the seventh meeting between Rutgers and DePaul, with the Scarlet Knights leading the series 4-2. Rutgers is riding a three-game winning streak against the Blue Demons. The two programs had never met prior to DePaul joining the Big East
-DePaul has three players, Cleveland Melvin, Devin Hill and Eric Wallace, out for the season with various injuries.
-Wednesday evening's game will be Senior Night for DePaul as Mario Stula, Jimmy Drew and Mike Stovall will all be recognized.
Scouting Rutgers
Senior forward Jonathan Mitchell at 6-foot-7, 225 pounds leads Rutgers in scoring with 14.2 points per game. Mitchell is second on the team in rebounding with 5.8 per game and made three-point attempts with 45, showing he can play in the paint and step outside and knock down a long shot if needed.
Mitchell has struggled in Rutgers' last two games, managing just 12 total points. A surprise considering he had scored more than 20 points in five of the seven games before prior to the rough outings.
Dane Miller, a 6-foot-7 guard/forward, follows up Mitchell in scoring average with 9.1 points per game, a slight drop from a year ago. The New York native leads Rutgers with almost six rebounds a night and is coming of a 5-of-9 shooting performance against West Virginia where he also pulled down six rebounds. Turnovers have been a problem in recent games for Miller, as he has given the ball up 13 in his last four games.
Freshman big man Gilvydas Biruta, a 6-foot-8, 230 pound bruiser from Lithuania, will be a player DePaul needs to key in on. Biruta, who averages 9.1 points per game, finished with six points against the Mountaineers last weekend but he had games of 18, 12, and 12 leading up to that along with 19 rebounds over that span. Biruta does not take a lot of shots but with DePaul's interior defense and rebounding being a significant weakness, he could have a big night around the rim.
Senior guard Mike Coburn, who checks in at 6-foot-0 and 185 pounds, logs the most minutes per game of any player on the Rutgers roster. He is averaging 8.7 points and 4.0 assists per game and shoots 34 percent from three-point range. Against Syracuse two weeks ago, Coburn registered 18 points and last Saturday against West Virginia managed to finished with 20 points and two assists. Coburn didn't turn the ball over once against the Mountaineers, but committed 10 turnovers in the three games prior.
In his last six games, Coburn has been good at creating shots for teammates, registering 29 turnovers against the likes of Notre Dame, Syracuse and Villanova.
Senior James Beatty, a 6-foot-2 guard from North Carolina, also sees over 30 minutes for game for coach Mike Rice's team. He hasn't scored in double figures since Feb. 9, but Beatty shoots over 36 percent on three-point attempts and rebounds relatively well for his position. Like Coburn, Beatty has registered impressive assist totals in Rutgers' last four games and averages 3.0 a game.
As a team, Rutgers ranked 262nd nationally in scoring with 65.8 points per game. The Scarlet Knights average 33 rebounds per outing and shoot a respectable 43 percent from the field.
Keys to Victory
Protect the Paint: South Florida's Augustus Gilchrist showed on Saturday just how vulnerable DePaul is in the post. Gilchrist scored 32 points and made it look easy against DePaul center Krys Faber. if Biruta can get easy position down low and push DePaul's post defenders around, Rutgers will be getting plenty of high-percentage shots.
Long Range Issues: Over the course of its current four-game losing streak, Rutgers has been a dreadful from three-point range, shooting just over 28 percent. If DePaul can force the Scarlet Knights to settle for long jump shots, it will help greatly in getting a second Big East victory.
Fill the Void: With leading scorer Cleveland Melvin out, others on DePaul's roster will need to pick up the slack and make up for the loss if his 14.3 points per game. Freshman guards Brandon Young (12.4 ppg, 3.7 apg) and Moses Morgan will be key, along with fellow junior guard Jeremiah Kelly, who has been a strong performer in recent weeks for the Blue Demons with performances of 23, 25, 9 and 14 points in his last four outings.